---
Proud to offer you TinyHelper
---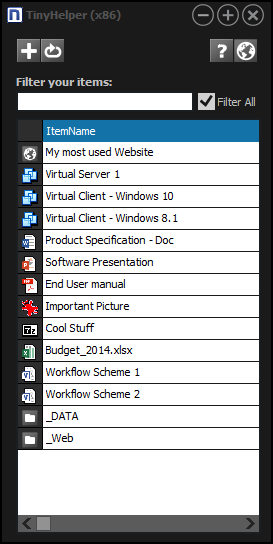 ---
TinyHelper allows you to organize your most used files, folders or weblinks. How often were you navigate to the files and folders for Windows. And yes, the recent list from Windows is not handy!
Or you need a solution to start most used applications? Yes, Microsoft brings back the Start menu with Windows 10 but are you happy with it?
I'm often using the world wide best file search tool Everything and be very happy. But it does not allow to show my personal favorites only.
NEW: TinyHelper plays webstream from internet radio stations!
Features
Organize files, folders, shortcuts and web-links
Filter while typing, navigate with keyboard and process item with ENTER
Edit items to change content (E.g. If your document has changed but not the name which you search)
Play webstreams (Internet radio stations)
No spyware, no crapware, no addware.
Its' free!
Simply download HERE without any registering. --> Again an advantage for TinyHelper :-)